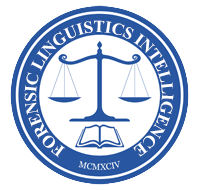 FORENSIC LINGUISTICS INSTITUTE
Institut de Linguistique Judiciaire - Founded 1994
---
LATEST NEWS
New e-book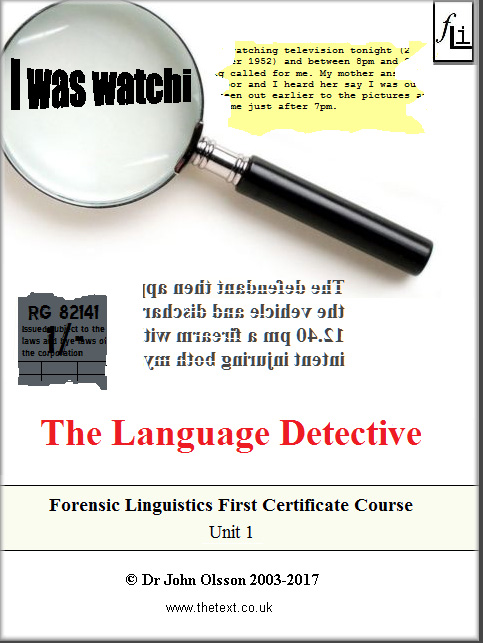 Part 1 of our ever-popular Certificate in Forensic Linguistics course is now available as an e-book (in secure .pdf format). There are two other books in the series but this one will give you the basics of forensic linguistics. Only £15.99.
---
HOME | About Forensic Linguistics | About Dr. John Olsson
The Forensic Linguistics Institute
Dr Olsson is an expert in the authorship of phone texts, emails, blogs, cyber bullying and trolling texts and documents, social media postings as well as letters, suicide notes, threat letters and texts and police and witness statements.
In addition to more than 20 years of experience as an expert witness, and more than 50 court appearances, Dr Olsson is also trained in the law (LLB Hons (First Class) 2012, Bangor University, and a trained barrister, and therefore has a keen appreciation of the relationship between expert evidence and the "overriding objective", whether in civil or criminal cases. In addition, Dr Olsson underwent expert witness training, conscious also of the need to continuously strive to improve how he gives his evidence to courts, as well as working towards improving his understanding of the underlying science of linguistics. Dr Olsson lectures on Forensic Linguistics In Court, and from 2016-2017, on the law of Expert Evidence at both undergraduate and graduate level, at Bangor University. He is also an External Examiner at Level 6 for Edge Hill University.
"I found giving evidence at the Court of Appeal was a massive challenge, and following helpful observations and comments from the judge, decided to undergo expert witness training in order to learn how to better present evidence. This was extremely helpful, and I would advise any expert working at such a high level to consult an organisation offering expert witness training. Giving expert evidence to the Court of Appeal is an extremely demanding, and very rigorous process. Experts should expect a great deal of judicial intervention when working with senior judges and should know how to deal with it. I have given oral evidence in many courts since that time, and have found the expert witness training highly beneficial each time, having received very encouraging feedback from both counsel and solicitors on a number of occasions and reports that my evidence was positively received by the court. On one occasion I received a very warm letter from a QC (now a judge)."
Dr John Olsson is a leading expert in forensic linguistics, and authorship in particular. Authorship includes: identifying the author of a letter, email, phone text or other statement, anonymous or disguised hate mail, plagiarism, fabricated witness statements and identifying the author of a defamatory (i.e. libellous or slanderous) statement or claim, tweet, Facebook or other social media posting.
In the past we have also identified authors of bullying texts and postings, collusion among witnesses, and many other abuses of the justice system. Dr Olsson worked on, among others, the copyright infringement allegations surrounding Dan Brown's book 'The Da Vinci Code'.
In the course of his long career working as an expert witness in forensic linguistics Dr Olsson has handled many different types of case, including murder, suspicious death, terrorism, robbery, assault of all forms, fraud and forgery, harassment and stalking, bullying, defamation, drink driving, theft, burglary, taking vehicles without consent, dangerous and careless driving, and many other offences.
This work has involved studying the authorship of anonymous letters, forged suicide notes, ransom demands, hate mail, the analysis of text messages, witness statements, and social media postings. In addition, Dr Olsson has also worked on the breaking of codes.
Dr Olsson has appeared in many different courts, from the Court of Appeal to Magistrates' Courts, many Crown Courts, and has also appeared in courts abroad, including in Singapore and Australia.
Dr Olsson is available for consultation on any linguistics matter. Please leave a message in the Contact Panel below. It will come straight to his email and he will respond as quickly as possible.
Court appearances
Approximately 70-80 appearances in a variety of courts, including Magistrates' Courts, Crown Court venues, the Central Criminal Court (Old Bailey), the Court of Appeal and courts outside the United Kingdom, including in Australia and Singapore; oral and written evidence tendered to a variety of tribunals.
Note: We do not undertake defamation work involving action against non-UK citizens which would be decided in a UK court.
Criminal cases
All types of offence from murder to terrorism including all types of assault, robbery, burglary, fraud, drugs and alcohol cases, witness collusion, the authorship of suicide notes, and many other other types of case.
Civil cases
Many different types of case from libel to breach of contract, civil fraud, forgery of wills, commercial plagiarism, adult influence in children's writing, employee harassment, interpretation of international statutes, copyright infringement and many others.
Contact us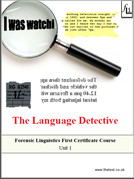 FREE
SAMPLE COURSE DOWNLOAD:
THE LANGUAGE DETECTIVE
Download the viewer first at www.digitalwebbooks.com

NEW
Learn on the Move
Courses in Forensic Liguistics
You can now study any of our courses using your tablet or smart phone
Privacy policy: We never collect personal data from
any visitor to this website.