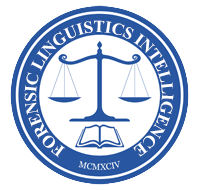 FORENSIC LINGUISTICS INSTITUTE
Institut de Linguistique Judiciaire - Founded 1994
---
The Forensic Linguistics Institute
Forensic linguistics: the analysis of language to detect authorship and to interpret meaning
Dr John Olsson, the world's first full time forensic linguist, has been practising as a forensic linguist for nearly 25 years and has been instructed by prosecutors, solicitors and police forces across the United Kingdom.
Authorship is the method used by a forensic linguist to determine who the author of a particular document is. Note that authorship is not handwriting analysis: it is only concerned with the actual language used. Authorship involves analysing documents of all types: letters, emails, mobile phone texts and any other electronically produced item of text. Dr Olsson has analysed thousands of documents for authorship, and has written reports in over 500 cases, both criminal and civil.
Criminals will often try to disguise their use of language, and in murder cases they try to make their own language resemble the style of language of their victim. Howard Simmerson tried to do this when he killed Julie Turner and placed her body in an oil barrel. Simmerson gave himself away by the unusual use of full stops. Another person whose language Dr Olsson analysed was Tony Couchman, accused of murdering his daughter, Victoria. The language of the texts sent from Victoria's phone bore a strong resemblance to Tony's. A similar case was the tragic death of Sandra Weddell, whose husband, Garry, was accused of writing a suicide note. Garry Weddell had the unusual habit of placing a full stop after a person's name when he wrote them a letter or email. The same feature - along with several others - was found in the suicide note. Other cases included the suitcase murder, the Facebook murder, cases of malicious communication, several multi-handed homicides, sexual assault, terrorism and many other types of offence.
Dr Olsson is highly experienced at giving evidence in criminal and civil trials. Aside from all types of criminal offence, this has included plagiarism and copyright infringement in several high value cases.
Dr Olsson has also successfully analysed hate mail, stalking communications, and cases of internet bullying as well as other forms of cybercrime for authorship. He has also worked on a number of death row cases in the United States, one example of which was an analysis of the authorship of a confession to a double murder, supposedly written by James Earl Reed.
In another case, a notorious sex offender, Peter Chapman, was convicted of murder, following the tragic death of young Ashleigh Hall in the north east of England. Chapman, like other murderers whose language Dr Olsson has analysed for authorship, also tried to disguise the way in which he used language. He was not successful and gave himself away by failing to understand a basic fact, namely that it is impossible for a person to conceal the way they use language, no matter how hard they try; a particularly difficult task when the victim is in a different age group and of a different gender: Chapman was a male in his mid thirties, and his victim was a young teenage girl.
With the addition of forensic linguistics to the investigator's portfolio of methods, such as DNA, fingerprint, blood spatter analysis, and many other forensic disciplines, investigators are now well placed to detect crime and, equally importantly, defence lawyers are also better equipped to assist their clients.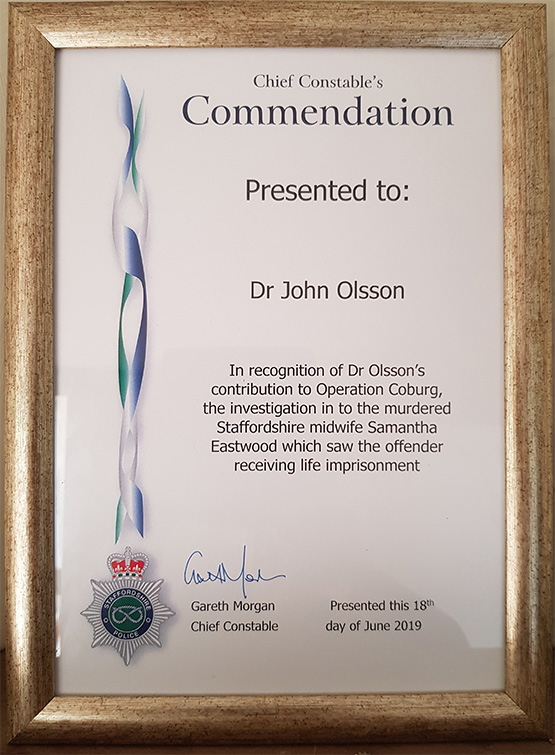 LATEST NEWS - Dr Olsson awarded Chief Constable's Commendation
Samantha Eastwood, a midwife at the Royal Stoke University Hospital, was last seen on the morning of Friday 27 July 2018. The next day her family received a number of texts from her phone saying she had met someone and wanted to be left alone. Dr John Olsson was called in by Staffordshire Police and within hours he identified Michael Stirling as the author of the messages. Stirling was followed by undercover officers and unwittingly led them to the area where he had buried his victim. The body was recovered and Stirling was arrested the following day. He pleaded guilty and was sentenced to life imprisonment.
As a result of his work on this tragic murder, Dr Olsson was awarded a Commendation by the Chief Constable Gareth Morgan of Staffordshire Police at a ceremony in June 2019.
Dr. John Olsson
About Dr. John Olsson
Latest Courses in Forensic Liguistics
You can now study any of our courses using your tablet or smart phone.
Discover more
New publications
Dr John Olsson's publications include Word Crime
Read excerpts