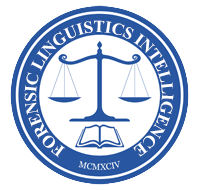 FORENSIC LINGUISTICS INSTITUTE
Founded 1994
---
Forensic Linguistics Testimonial
"John has proved himself to be a most valuable asset."
"I am the SIO for Operation Holbrook, the investigation into the murder of 19yr old Victoria Couchman.
"Her skeletal remains were discovered in woodland in St. Leonards-on-Sea, East Sussex, in October 2008. It was our assertion that she had died on or about May 15th 2008. In May 2009 her father, Tony Couchman, was charged with her murder.
"On 2nd January 2010, 2 days before the start of a six week trial, he committed suicide in his cell at Lewes prison.
"The case was one of circumstantial evidence, notably around the use of certain mobile telephones. Of immense interest to us were a number of texts purported to have been sent by our deceased after the date we believed her to be dead.
"The details of John Olsson were passed to us, as someone who may be able to assist in establishing who could have been the author of these texts.
"John has proved himself to be a most valuable asset. Not simply because he has been able to state with confidence that the author was not our deceased and would likely be her father, he has provided this information in a comprehensive evidential statement.
"I am in no doubt this would have been subject of examination throughout the court process.
"The time in which he has conducted his examination has also been refreshingly prompt. He was given some relatively short timescales which he kept to.
"Feedback from [the Senior Investigating Officer], was that she found John to be extremely cooperative, making no "false promises", realistic, and very pleasant to deal with.
"I write this email to you to provide some sort of quality assurance in respect of John.
"I would not hesitate to recommend him or indeed seek out his assistance in the future."
The Senior Investigating Officer - Operation Holbrook