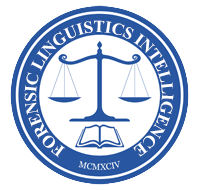 FORENSIC LINGUISTICS INTELLIGENCE
thetext.co.uk - Online since 1999
---
Forensic Linguistics Intelligence thetext.co.uk
Obituary: John Olsson
John Olsson (1951-2021)
On 09 June 2021, Dr. John Gabriel Christopher Luke Olsson passed away suddenly and peacefully at age 69. Dr. Olsson has a career that was colourful as his personality. He had a deep understanding of the power and complexity of language, particularly when it entered the arena of the law.
Dr. Olsson started his career as an interpreter for the Metropolitan Police in London, England in the 1970s. In 1980, he graduated with a Bachelor of Science in Psychology from the California Coast University and practiced as a psychotherapist for approximately two years after. In 1995, he gained a Master of Arts in Linguistics at Bangor University, Wales and earned a Master of Philosophy in English from Birmingham University, England in 2000. He received his Doctor of Philosophy in Linguistics from the University of Glamorgan, Wales in 2009. In 2012, Dr. Olsson graduated with a law degree (LLB) from Bangor University, completed his Post Graduate Diploma in Bar Professional Services and was called to the bar at the Inner Temple, London in 2016. In March of 2021, Dr. Olsson received the news that he had also passed his solicitor exams; he was awaiting his registration certificate when he passed away.
Since 1994, Dr. Olsson served as the Director of the Forensic Linguistics Institute, later Forensic Linguistics Intelligence, a world-renowned forensic linguistics consultancy. He also offered various training courses, which were accredited by the Open and Distance Learning Quality Control of the United Kingdom. As a freelance consultant, he had extensive criminal and civil case experience, wrote over 500 reports, and was commissioned by law enforcement agencies, legal professionals, government departments, companies and private clients around the world.
Dr. Olsson worked on murder, suspicious death, terrorism, kidnapping, witness intimidation, blackmail, fraud, sexual assault, armed robbery, money laundering, product contamination, gang violence and narcotics investigations and analyzed all kinds of texts, including ransom notes, suicide letters, threat texts, gang codes, phone text messages, emails and a variety of other types of documents. In addition, he undertook many transcriptions and other phonetic analyses of police interviews, malicious and genuine phone calls to emergency services and surveillance audio tapes.
His work was used as evidence in several British courts, such as the Crown Court, Magistrates' Court, County Court and Coroner's Court levels. He also testified at venues as diverse as the Central Criminal Court, a number of Coroners' courts and the UK Asylum and Immigration Tribunal. Additionally, Dr. Olsson worked on evidence in a case which concluded in the US Supreme Court. He was admitted as an expert in an Australian civil court in connection with copyright infringement and wrote a number of reports in this area. His evidence was also presented in an international forgery case in Switzerland and he attended court as an expert witness in Singapore.
Dr. Olsson was a lecturer at the Bangor School of Linguistics and School of Law where he taught several courses, such as "Forensic Linguistics in Court" and "The Law of Expert Evidence". He was also an Adjunct Professor at Nebraska Wesleyan University, USA , a Subject Matter Expert to the California School of Forensic Studies, USA, and a Visiting Professor of Forensic Linguistics at the International University of Novi Pazar, Serbia. Dr. Olsson published several popular books, including three editions of his textbook "Forensic Linguistics: An Introduction", which was translated into several languages, and two editions of "WordCrime" where he discussed a variety of his forensic linguistic case files.
His great hunger for challenge and accomplishment was not only reflected in his academic and professional life, but also his personal one. He had a pilot's and helicopter license, completed a drone flying course, and operated under the name of 'Dr. Drone'. He published the aviation magazine Pilots International between 1980-1990, authored several unpublished personal books and was also a keen painter. Dr. Olsson previously created a gallery at his home named 'Farmhouse Gallery' where he sold his paintings privately. He had a large and loving family, including four cats and three dogs, who adored him, and to whom he was devoted to (a very busy man indeed!). He was committed and enthusiastic to every aspect of his life and leaves behind a legacy that has inspired people across the world to succeed, including those closest to him. His heart may have stopped beating but it will continue to live on in the forensic linguistic community. Dr. Olsson's energetic, encouraging and cordial demeanor will be sorely missed!
Julia Kupper, John Olsson's former student and colleague