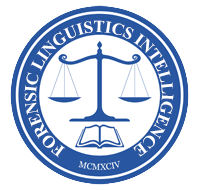 FORENSIC LINGUISTICS INSTITUTE
Founded 1994
---
Forensic Linguistics Institute
Terms and Conditions of Course Purchases
It is our intention that you should understand this contract fully before you enrol on any of our courses. If you are in any doubt, please consult a lawyer or write to us for clarification. We consider entering on a course of professional study for paralegal practice to be a serious matter, and we do not wish to take any person's fees unless they fully understand this contract and what it obliges them to do. The contract is quite lengthy to read, so we suggest you take your time to read it and even print it out before enrolling with us. There is no 'small print' in this contract. Do not hesitate to contact us if in doubt about anything.
1. This document tells you the terms and conditions which apply to our selling services to you. In this document "we", "us", "our", "ours" and "us" are references to Forensic Linguistics Institute ('the Institute'), and "you", "your", and "yours" are references to you, the buyer of any of our courses.
2. By purchasing any of our courses, you agree to these terms, and you agree that you are entering a legally binding contract and you further agree to be legally bound by these terms and conditions.
3. By ordering, or enrolling in, any of our courses, you agree that you are over the age of 18 years and that you have legal competence to enter a contract. If you are not over the age of 18 years you will need permission from your parent or guardian.
4. The material we provide to you as an enrolled student is for your use only. If you are, or represent, an institution of further or higher education wishing to teach our courses, please contact us at john.olsson1@googlemail.com. Any such arrangement will require our prior agreement in writing.
5. We do not guarantee that enrolling in, or passing, any of our courses will ensure future employment, or advancement in your present employment.
6. It is for you to decide whether the courses we provide are suitable for your purposes.
7. If you have any complaints about our courses, of whatever nature, please inform us at the earliest opportunity and we will make every effort to resolve the problem. The earlier you notify us about a problem, the sooner we can resolve it. You will find the complaints procedure in your Student Handbook. Your Student Handbook will be a document prepared uniquely for you, and it will contain the details you have given us, and the courses you have enrolled in.
8. We keep our courses available to interested members of the public, including paralegal professionals and students, and others, at what we consider to be modest prices. Therefore, we do not provide finance or instalment payment plans. However, you are able to purchase one module at a time if you wish.
9. We believe that all of the information you will require to make your decision as to buying any of our courses is on our website at thetext.co.uk or otherwise available from us. If you have any questions, or feel the documents you have received do not cover all of the points you need to know about, it is up to you to tell us. We will always do our best to help you.
10. All of our course material is in electronic form. There are no paper documents.
11. Our courses relate to the law of the jurisdiction of England and Wales and to the common law. We welcome, amongst others, students from any jurisdiction where common law is, or forms part of, the legal system of that country. In general, this means any country where English is spoken as the main, official, or one of the prominent languages of communication in that jurisdiction. It includes most of the Commonwealth countries. We welcome students from other countries too.
12. We provide you with materials only in the English language, and by purchasing any of our courses, you agree that your level of English is sufficient to enable you to study and participate in our courses, including the completion of written assignments and written examinations.
13. If you enrol on one of our courses and find that it is not suitable to your needs or present level of knowledge, we will make every effort to accommodate you on another one of our courses, but we do not guarantee that this will be possible.
14. On receiving your enrolment we will send you a registration form to complete. Please note that by law the information you supply, such as your name and date of birth, must be accurate. Your information will be held in complete confidence under UK data protection legislation. We will not sell it or divulge it to any person or organisation, except if ordered to do so by a court or other designated government authority. Once we agree your registration, we will send you the course material, either for the whole course, or for the relevant commencement module, depending on which course or module you are enrolled in.
15. If required, a full refund will be made within 14 days of registration. This conforms to Paragraph 30 (2) of the The Consumer Contracts (Information, Cancellation and Additional Charges) Regulations 2013 and other applicable legislation.
16. Other refunds will be considered in exceptional circumstances providing that any necessary documentary proof is submitted to the Institute. In the event that we agree to make a refund to you under these circumstances, there will be an administration charge which will be deducted from any fees that you have paid. The amount of the refund, if given, will depend on the period of time which has elapsed from the date of registration to receipt of the refund request. Each request for a refund will be considered on its merits. Your rights under Paragraph 15 above are not affected by this paragraph.
17. In the event that a student knowingly violates our rules on plagiarism or academic integrity, we reserve the right to terminate the student's course after two warnings. If we terminate a student's course we do not refund their fees.
18. You undertake not to misuse any learning material obtained from us, and you contract to defend, indemnify and hold harmless Forensic Linguistics Institute, its personnel, owners and successors from and against any costs, claims, actions, demands, expenses, compensation and liabilities, including without limitation reasonable legal and accounting costs, alleging or resulting from your use or misuse of our material or any breach of these conditions.
19. This Agreement is governed by and shall be construed in accordance with the laws of England and Wales. We reserve the right to revise, amend or modify these terms and conditions from time to time and will publish any revisions, amendments or modifications on our website.
20. Whilst every effort is and will be made to ensure you have access to our website and your learning material at all times, in the event of events beyond our control preventing your access to our website or to your learning materials we will not be held liable for any loss to you resulting from any such failure. However, if you inform us of any problems, we will attempt to provide you promptly with a solution.
21. This document is the complete agreement between us and you.
Obligatory information
22. By law, namely Schedule 2, The Consumer Contracts (Information, Cancellation and Additional Charges) Regulations 2013, we are required to inform you that:
(Note: the points below correspond to the subsections (a-x) of Schedule 2 of the above regulations - click on the above link to view them).
(a) The services we provide are described as legal education by distance learning. This means you do not attend 'live' classes but study from your own premises in your own time from materials provided by us electronically. You must provide your own computer with word processing and other relevant software, and you are responsible for the costs of maintaining that equipment, and the costs of your internet connection.
(b) The organisation legally responsible for providing you with this service is Forensic Linguistics Institute, unless you are attending another college or institution which has arranged with us to provide lectures based on the Institute's own teaching materials.
(c) Our geographical address is Forensic Linguistics Institute, Bryntirion Farmhouse, Llanfair Caereinion, Powys, SY21 0BL, United Kingdom. Our telephone number is +(44) (1) 938 811 192. Our email address is contact@paralegalcollege.co.uk.
(d) If you are attending a physically located college you should consult that college before contacting us. However, in the event of a problem not being resolved, do not hesitate to contact us as soon as possible.
(e) If (d) applies, that college or institution will provide you with their contact details. Do not hesitate to contact us if they fail to do so upon reasonable request.
(f) The price you have paid on enrolment is the total price for that module or course, depending on what you have purchased. There are no additional charges for anything, including examinations, certificates, etc. If anyone requests further money from you, claiming that we, the Institute, are demanding it, please report this matter to us immediately. We have not authorised, and we never will authorise, any person to demand any extra payments from you. This does not apply to Paragraph (d) above where another institution will charge you a separate fee for attending its classes.
(g) There are no delivery or postal charges added to any of our fees.
(h) There are no subscription or periodic charges added to our fees.
(i) Intentionally blank or not applicable.
(j) Delivery of study materials is upon enrolment or shortly thereafter. Whilst we aim to deliver material within 24 hours this may not always be possible. In that eventuality we will inform you as soon as we are able to do so.
(k) In the event that you have a complaint, please refer to the Forensic Linguistics Institute Complaints Policy and Procedure, available on our website. If you are unable to locate that document, please inform us immediately and we will send you a copy of that document.
(l) Regarding cancellations and refunds, please see Paragraph 15 above.
(m) You have 14 days to cancel this contract if you do not wish to proceed with your studies. If you wish to commence your studies within 14 days of receiving this material, please inform us and we will communicate further with you to ensure that your rights of cancellation and refund are protected. If you are in any doubt on this point, please communicate with us before enrolling. You may email us at this address: john.olsson1@googlemail.com.
(n) You do not have to pay anything if you cancel within 14 days: we will give you a full refund. However, once you begin studying, or once 14 days have passed from the date of enrolment, you will not receive a refund.
(o) Just to emphasise the above point, please understand that after 14 days you will no longer have the right to cancel and your fee will not be refunded.
(p) We are under a legal obligation to provide you with materials suitable for the study of becoming, or obtaining further knowledge and qualifications as, a professional paralegal. To the best of our knowledge and belief the materials we will provide you with do satisfy the above condition.
(q) You may contact us at any time for assistance with regard to your course, or any aspect of your coursework. If you are studying at another institution, normally they will provide that assistance. However, in the event of a failure to do so, please notify us as soon as possible.
(r) Intentionally blank or not applicable.
(s) Regarding the duration of the contract and any extension of it, please see Paragraph 6 above.
(t) Intentionally blank or not applicable.
(u) Intentionally blank or not applicable.
(v) Intentionally blank or not applicable.
(w) Content provided to you will always be using standard, widely available types of software, and should therefore be compatible with any modern computer system.
(x) Intentionally blank or not applicable.