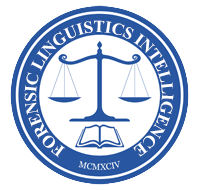 FORENSIC LINGUISTICS INSTITUTE
Founded 1994
---
Contact Dr. John Olsson at the Forensic Linguistics Institute
If you have an inquiry about any of our courses, or if you wish to consult us on a Forensic Linguistics question, just click below to email me personally and confidentially.
Forensic Linguistics Institute
Tel: + (44) [0]1938 811192
"Forensic Linguistics is on the cutting edge of investigative and reconstruction activities."
Detective Sergeant Larry Barksdale, Lincoln Police Department, Lincoln Nebraska
Course refund policy: After delivery of course material we refund only under very special circumstances. Please contact us for details.